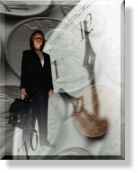 "Time is Money..."
"The more time you spend developing your application the less money you make on it."
ProScan is feature rich and designed to provide all the functionality that you might want in your application.
Even more important - ProScan meets the professional software standards that your users have come to expect.
The user interface is intuitive and simple to operate. The clean uncluttered screen design blends seamlessly into your application.
Click here for a full screen view of the user interface in a new window
Standard User Features Include:
Manual Duplex Scanning option - lets scanners with a single sided sheet feeder scan both sides of a stack of paper into a duplex scan document

Multipage document scanning with support for Automatic Sheet Feeders

Advanced scan options to Insert, Append or Replace individual pages

Automatic Thumbnail Navigation within the multipage document

Print one or all pages with the new ImageEx PRINT class

Export one or all pages to PDF with the new ImageEx PDFSaver

Scan pages with different compression levels into the same TIFF file for maximum balance between image quality and file size

Scanner Setup and Test procedure for quick setup and troubleshooting

Create Multiple Scanner Profiles for direct scanning with different settings without displaying the scanner interface or reconfiguring the scanner

Create Multiple Scanned Document Types for scanning predefined areas of a page without manual cropping

Quick Scan Menu (allows right-click direct scan with any profile)
Programmer Related Features Include:
Automatic file management. Save and load files as external TIFF images, Blob fields or in external Blob files with ProScan Blob automation

Robust scanner setup and test code - designed to prevent you from being flooded with user complaints about common TWAIN or scanner errors

Automatic management of scan settings in either INI files or the System Registry (using the new RegINIClass that you can use in other programs)

All source code is provided (along with app and dct files). ProScan contains no blackbox code or DLL's (this does not replace standard ImageEx DLL's)

All source code is written in ROUTINES for easy reuse and management.
The actual source code is well documented, contains plenty of white space and uses intuitively named variables so that it is easy to understand

Templates are provided for easy integration into Clarion generated programs by non-handcoders
View the online help or download the demo for details on these features
Want to see the results?
Click here to open a new window and see a multipage PDF created directly from ProScan (or right-click and Save As to download the file)
(note - this was scanned at only 150 DPI to keep file size small - 815K)